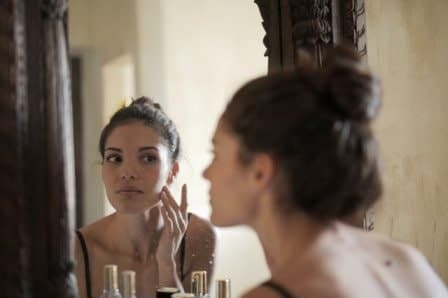 Ayurveda as a science for natural remedies offers profound knowledge on curing skin diseases. The homemade potions and medic pastes mentioned in the classics of Ayurveda excel any other books written thereafter.
Recently many authors have written great books on skin care with their own clinical experiences and compiling orthodox information from other sources.
Here, I have tried to compile few of books written for skincare by Ayurveda specialist.
Absolute Beauty: Radiant Skin and Inner Harmony Through the Ancient Secrets of Ayurveda
Pratima Raichur, an internationally recognized expert on Ayurvedic skin care and a chemist wrote this book keeping the principle that "our skin is the reflection of what's happening in our inside body". The foods that we eat and how we keep our body elements in harmony affects our skin. According to Ayurveda, we all have different body types and different skins. After reading this book you will be able to identify your skin type and accordingly you will be able to plan customized skin care. It also includes diet for healthy skin and body detoxification tips.
Natural Beauty Skin Care: 110 Organic Formulas for a Radiant You!
With the rise of all chemical products uses in the cosmetic and food industry, it is hard to find skincare products made from purely natural ingredients. Author Deborah Burnes has written an amazing book mentioning formulations made of easily available kitchen items. Anyone can find this delightfully written book easy to follow.
The Book of Beauty: Making Natural Skin Care Products with Aromatherapy and Ayurveda
This book is written for someone who wants to prepare their own cosmetic products at home. Author Samyukta Blanchet has experience of 15 years in aromatherapy and Ayurveda. She has penned down her own formulas with basic recipes. After reading this book, you will be able to prepare beauty products at your home. Quick and easy recipes not recommended who are looking for more.
100 Organic Skincare Recipes: Make Your Own Fresh and Fabulous Organic Beauty Products
This book is not written with the concepts of Ayurveda. Though, author Jessica Ress has done a marvelous job by bringing a book with 101 recipes of skincare. The ingredients used in this book are so simple and easy to find anywhere. I loved this book because of the easy to follow the text with pictures.
Bottom Line
In my view the best book for any lay man to learn about taking care of skin is astanga hridaya. This classical book of ayurveda is easy to follow and a bible for taking care of body.
Also read:
10 Best Ayurveda Books for Beginners