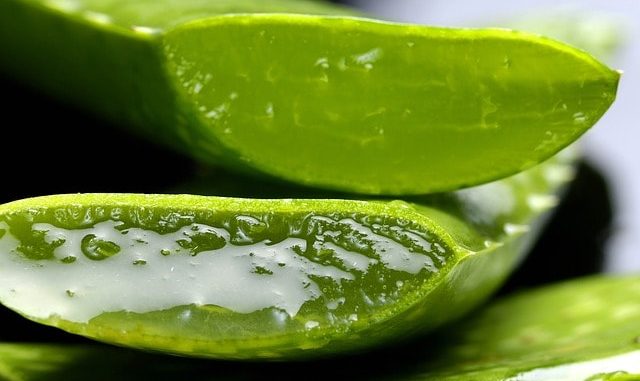 Aloe Vera is known as Kumari in Sanskrit. Aloe vera is a succulent plant species, An evergreen perennial plant. It originates from the Arabian Peninsula but grows wild in tropical climates around the world and is cultivated for agricultural and medicinal uses in countries like India, Pakistan, Sri Lanka. Ayurvedic physicians in India have been using aloe vera for many years. But the popularity of aloe vera to the western world became famous only a few decades ago.
[toc]
Ayurvedic Properties of Aloe Vera
Aloe vera is known as Kumari in Ayurveda. Kumari means young girl, it has two derivations for the name Kumari. It is used in diseases of young girls like pimples and the aloe vera plant looks beautiful even in the old days.
Other names of Aloe Vera in Ayurveda are Ambudhisrava/Vipulasrava because of having profuse gelly contents. Maata is like the mother of the patient. Ghrita Kumari is called because of ghee like appearance. Amara as it is rejuvenating.
Rasa- Tikta
Guna- Guru, Snigdha, Picchila
Vipaka- Katu
Veerya- Sheeta
Uses of Aloe Vera in Ayurveda
Bhedani: Aloe Vera is useful in constipation.
Yakrut Vruddhihara: Useful in hepatomegaly.
Agnidagdha: Useful in burn treatment.
Vishphotohara: Relieves boils, blisters.
Visahara: Useful in poisoning cases.
Rasayana: Useful as antiaging and promotes cell formations.
Aloe Vera Uses
You already know Aloe Vera is one of nature's greatest healing gifts, but it comes at a cost! Lumpy, messy and hard to use. Aloe vera has over 200 Active chemical Compounds which makes it one of the most studied and loved plants in natural healthcare.
Many people agree, if they could find a fuss-free organic aloe vera, that doesn't contain a hundred other strange additives they'd finally enjoy the benefits of natural Aloe, without the hassle.
Aloe Vera Products available in the market–
Aloe Vera Juice
Benefits of drinking Aloe Vera Juice—
1.Maintains good Liver function
Aloe vera juice is an excellent way to keep your liver healthy. Liver functions remain healthy when the body is adequately nourished and hydrated. Aloe vera juice is good for the liver functions because it's hydrating and rich in many nutrients.
2.Removes constipation
Drinking aloe vera juice helps increase the water content in your intestines. Research has shown a relationship between increasing the intestinal water content and the stimulation of peristalsis, which helps you pass stool normally.
3.Clear skin
Hydrating aloe vera juice may help reduce the frequency and appearance of acne. It may also help to cure skin diseases like psoriasis, rash, and dermatitis.
Aloe vera juice contains antioxidants and vitamins that may help protect, heal your skin.
Important compounds in aloe vera juice have also been shown to neutralize the effects of UV radiation, repair your damaged skin, and help prevent fine lines and wrinkles on the skin.
4.Heartburn relief
Drinking aloe vera juice may give you relief when heartburn attacks. The chemical compounds present in aloe vera juice help control the secretion of stomach acids. The effects have even been shown to combat gastric ulcers and keep them from getting larger.
5.Nutrition 
Aloe vera juice is jam-packed with nutrients. Drinking it is an excellent way to make sure you don't become deficient. It contains important vitamins and minerals like vitamins B, C, E, and folic acid. It also has less to little trace elements like calcium, copper, chromium, sodium.
Side Effects of Aloe Vera Juice
Aloe Vera leaf contains a chemical called anthraquinone considered toxic and should be avoided. Decolorization is a technique to remove these harmful chemicals (anthraquinones from Aloe Vera juice).
Nondecolorized, unpurified Aloe Vera can be harmful as it causes cramping and diarrhea. Diarrhea can lead to many health problems like severe pain, dehydration, and electrolyte imbalances.
Decolorized (purified aloe vera, low anthraquinone) is considered safe. A study has shown that mice fed various concentrations of purified aloe vera for more three months showed no adverse effects at all from the juice.
Aloe Vera Oil

Aloe vera oil is available with Vitamin E. Enriched with skin-soothing aloe vera and vitamin E, Johnson's Baby Oil is loved by many parents. Aloe Vera & Vitamin E leaves skin glowing and baby-soft. Made for babies' delicate skin and great for relieving your dry, rough patches, this body oil is clinically proven to be a mild and gentle formula for your baby's skin. Pure mineral oil like this one forms a silky barrier to prevent excess moisture loss and lock in up to 10 times more moisture on wet skin than ordinary lotion. Tested by Dermatologist, this lightly scented baby oil is easy to spread, so it's ideal for baby massage.
We love babies. And we understand how to moisturize baby soft skin to help protect it from dryness. That's why this Johnson's pure baby oil, enriched with Aloe Vera & Vitamin E, locks in up to 10 times more moisture on wet skin than on ordinary lotion can on dry skin.
[su_button url="https://amzn.to/2ls0YcS" target="blank" style="soft" background="#ee9a31″ color="#2f3841″ size="15″ center="yes" radius="0″]Check Price on Amazon[/su_button]
Aloe Vera Body and Hair Spray
Effects of Aloe Vera Body and Hair Spray. Moisturize and hydrate skin; Soften and repair dry, cracked skin; Improve wrinkles, blemishes, and acne; Soothe skin irritation, itches, and rashes; Relieve burns, and manage after sun care; Nourish the quality of nails; Condition hair, reduce frizz and dandruff; Soothe blisters, and treat athletes foot; Get relief from eczema and psoriasis; Great as a natural aftershave; Promote fast hair growth because it promotes cell growth fast!
[su_button url="https://amzn.to/2xPpFTA" target="blank" style="soft" background="#ee9a31″ color="#2f3841″ size="15″ center="yes" radius="0″]Check Price on Amazon[/su_button]
Aloe Vera Gel
Contains 99.75% pure organic aloe vera gel; cold pressed from certified organic aloe vera plants. This aloe vera gel formula spreads evenly and penetrates easily with no sticky and thick mess on the skin. You can use this product as a daily moisturizer for face, skin, hair, moisturizing after shave lotion for men and women. Make DIY aloe vera products; aloe vera infused socks and gloves; DIY moisturizer cream, skin cream. Paraben free, no petrochemicals, no dyes, no alcohol used while making this product.
[su_button url="https://amzn.to/2jViENx" target="blank" style="soft" background="#ee9a31″ color="#2f3841″ size="15″ center="yes" radius="0″]Check Price on Amazon[/su_button]
Final Thoughts
Aloe Vera is undoubtedly one of the best medicinal plant available on the earth. It has many health benefits like antiaging property, useful for the stomach, helps in digestion, promotes cell regrowth.
Ayurveda as the science of life has been using aloe vera for thousands of years back. Researchers have realized the importance of this plant and now big companies making aloe vera products all over the world.