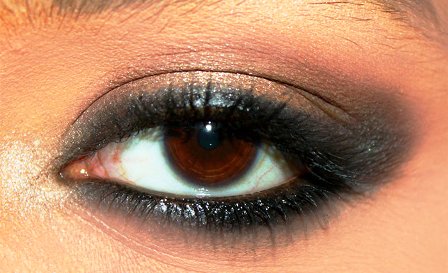 Anjana is a herbal preparation that is used as an eye application to enhance vision and to treat other eye-related diseases. Anjana is a little different from the normal kajal or collyrium that is used most often by males and females.
Anjana is prepared by crushing herbs and minerals to paste form which is directly applied to the eyelid margin using anjana shalaka(collyrium applicator).
Types of Anjana according to Ayurveda
Different acharya have mentioned different types of anjana in Ayurveda and they are classified according to their contents, therapeutic actions, etc.
According to Rasaratna samucchaya anjana is classified into five types:
Souviranjana: It is prepared from Antimony and Sulphur.
Rasanjana: It is yellow oxide of mercury.
Shrotanjana: It is antimony sulfide.
Puspanjana: It is zinc oxide.
Nilanjana: It is lead sulfide.
Classification of anjana according to their therapeutic actions:
Lekhana anjana: It is scrapping in nature, it is helpful in scrapping morbid waste materials from the eye. This anjana is prepared from herbs with amla, lavana, katu, tikta, kashaya taste except for madhura.
Ropana anjana: It is healing in nature, it strengthens the eyes to fight any eye ailments. This anjana is prepared from herbs with astringent(kashaya) and bitter(tikta) taste.
Prasadana anjana: It is soothing and calming in nature. This anjana is prepared by mixing madhura taste herbs with unctuous materials.
Method of Application of Anjana
Anjana is applied using anjana shalaka or applicator which is made of different metal according to the type of anjana.
Anjana shalaka or Applicator
The length of anjana shalaka should be 8 angula according to Charaka, and 12 angula according to Sushruta, 10 angula according to Vagbhata. The tip should be of the shape of a jasmine flower bud(mukulakara vaktra) and the circumference of the size of the peanut.
Lekhana shalaka: made of copper metal.
Ropana shalaka: made of iron metal.
Prasadana shalaka: made of gold metal.
When to apply anjana
According to Astanga Sangraha, Sauviryanjana should be applied daily and Rasanjana should be applied on every 7th day.
Anjana Dosha: 9
What is the scientific name of Anjana kallu?
The scientific name of anjana kallu can be derived from the material used for preparing it. Mostly oxide or sulfide of zinc, mercury, or antimony.
How do you use anjana kallu?
Anjana kallu is used mixing along with unctuous substances like ghee or oil and the applied on eye lid margins.
Read More Posts:
Ayurvedic way to detox your body
Bael fruit for diabetes and how to consume it
Parijat Leaves Side Effects You Need to Know